Supply and exhaust ventilation in Almaty
Our company Climat PROF Kazakhstan LLC is professionally engaged in sales and installation of a wide range of climatic equipment. Ventilation is the most important part of being securing comfortable working and living conditions inside buildings. If you want to ensure good health, well-being for yourself and your loved ones, high working capacity and energy for your employees – then you definitely need to plan and organize high-quality air exchange inside living and working premises.
Supply and exhaust ventilation
The function of the supply and exhaust ventilation system of buildings is to ensure continuous air exchange: which is supply of fresh air, cleaned of dust, fluff and dirt and, by the reverse stream – removal of exhaust air with unpleasant odors and harmful substances. Such type of combined system is the best suite in comparison with a separate supply and exhaust.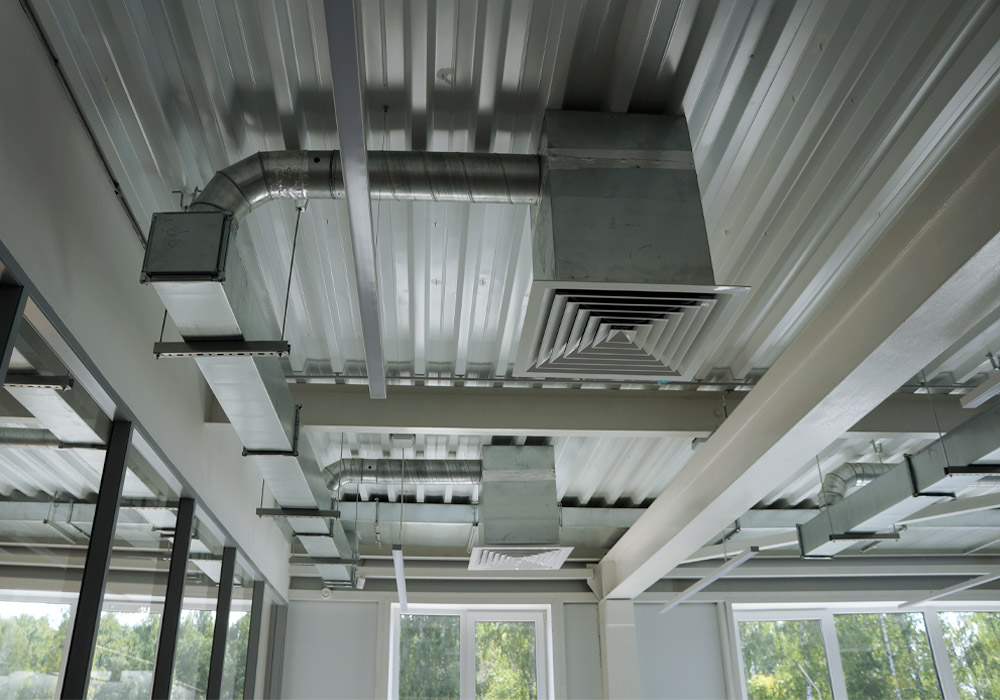 The principle of operation of supply and exhaust ventilation
Operation of the system works by the following principle: Supply (fresh air from the abbient) is supplied to the air duct system, primarily prepared – filtered, pre-heated or pre-cooled. After that it is distributed in the required amount according to the calculations for the premises. At the same time, the similar amount of "exhaust" air is removed from each room where fresh air is supplied to ensure pressure balance. Thus, there is an "air exchange" – a constant change of air in the premises.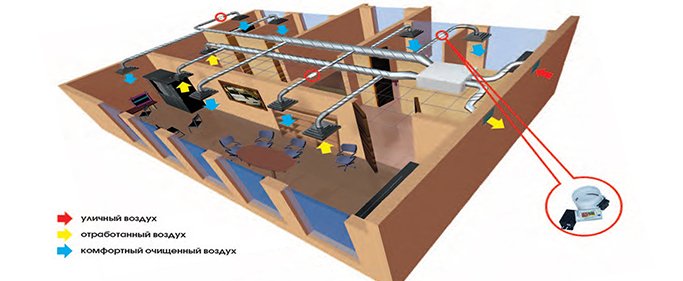 Standard parameters of the ventilation system
The ventilation project calculations mainly depend on the area of the rooms, height , the number of people inside, their type of activity, the level of physical activity, equipment (if it is a production workshop or something similar), heating and cooling elements of premises inside and other types of heat-generators, if any. If we talk about daily tasks then ventilation should secure the following tasks:
– to create a normal climate in the working area without creating excessive noise
– to remove harmful gaseous substances, impurities, unpleasant odors from the room
– to supply fresh or purified air into the room
– to be easy to use, install and maintain
– do not create noise, vibrations, drafts, etc. during operation.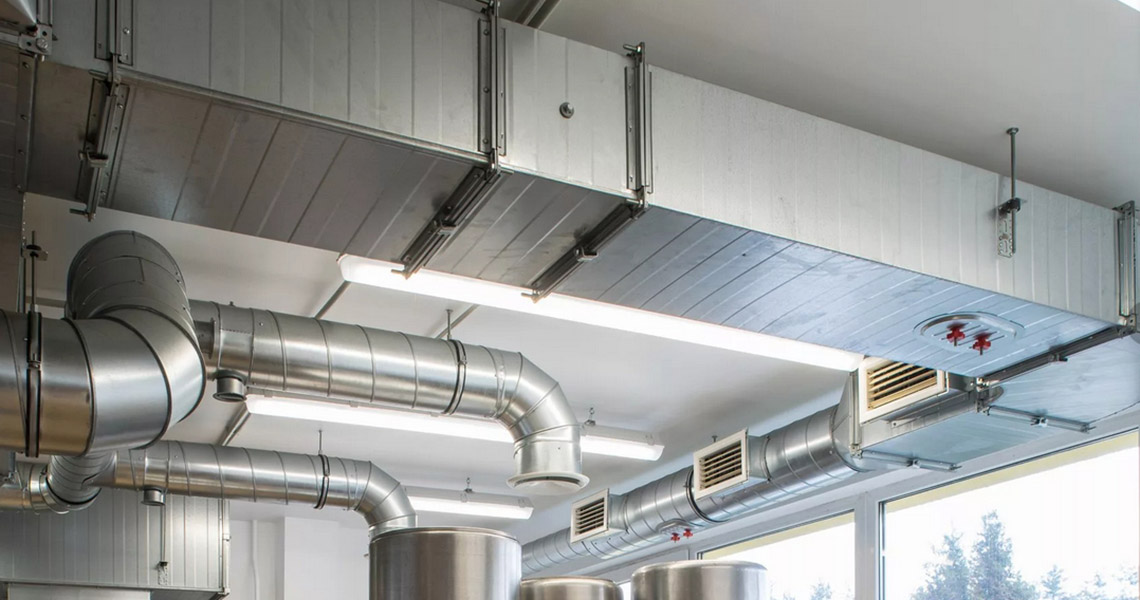 Ventilation device options
In cottages and private houses there are several main types of combination for the ventilation systems.
Natural air exchange and exhaust
 – from the bathroom, kitchen and as must – from the boiler room (specifically for diesel or gas or coal – heated boilers).  This room needs a constant supply of fresh air to maintain the combustion process and removal of air with carbon monoxide).
Forced exhaust ventilation (also known as ventilation with mechanical stimulation)
Exhaust is forced from the bathroom, toilets and kitchen, etc. In this case there is a fan installed in each bathroom or toilet, which turns on together with the light, by a humidity sensor, or by a separate key, or through a time delay relay to turn off some time after the light is turned off.
In this case exhaust from the boiler room remains natural.
Forced supply and exhaust system
– if a full-fledged ventilation system for residential premises is required for the sake of  that the house has a comfortable state of the internal climate at all times, then a forced supply and exhaust system must be used. Here it is more appropriate to use a system with heat recovery, i.e. heating of the incoming air using already pre-heated and higher temperature of the exhaust air. This will save a lot of energy in winter because volume of supply air for the whole house is assumed to be large enough and the power for the heater will be almost equal to the entire remaining power consumption of the house.
For the ventilation of public spaces, restaurants and cafes however everything is somewhat more complicated. Permanent comfortable air habitat for even a small cafe or restaurant is a rather challenging but inspiring task. Besides in terms of ventilation standards and norms such type of premises are under the continuous and special attention of inspection bodies.
This is because in the public areas, air itself is combined with much more factors (many visitors heat, openable external doors, additional illumination, odors, ovens and grilles, glass window solar radiation, etc., etc).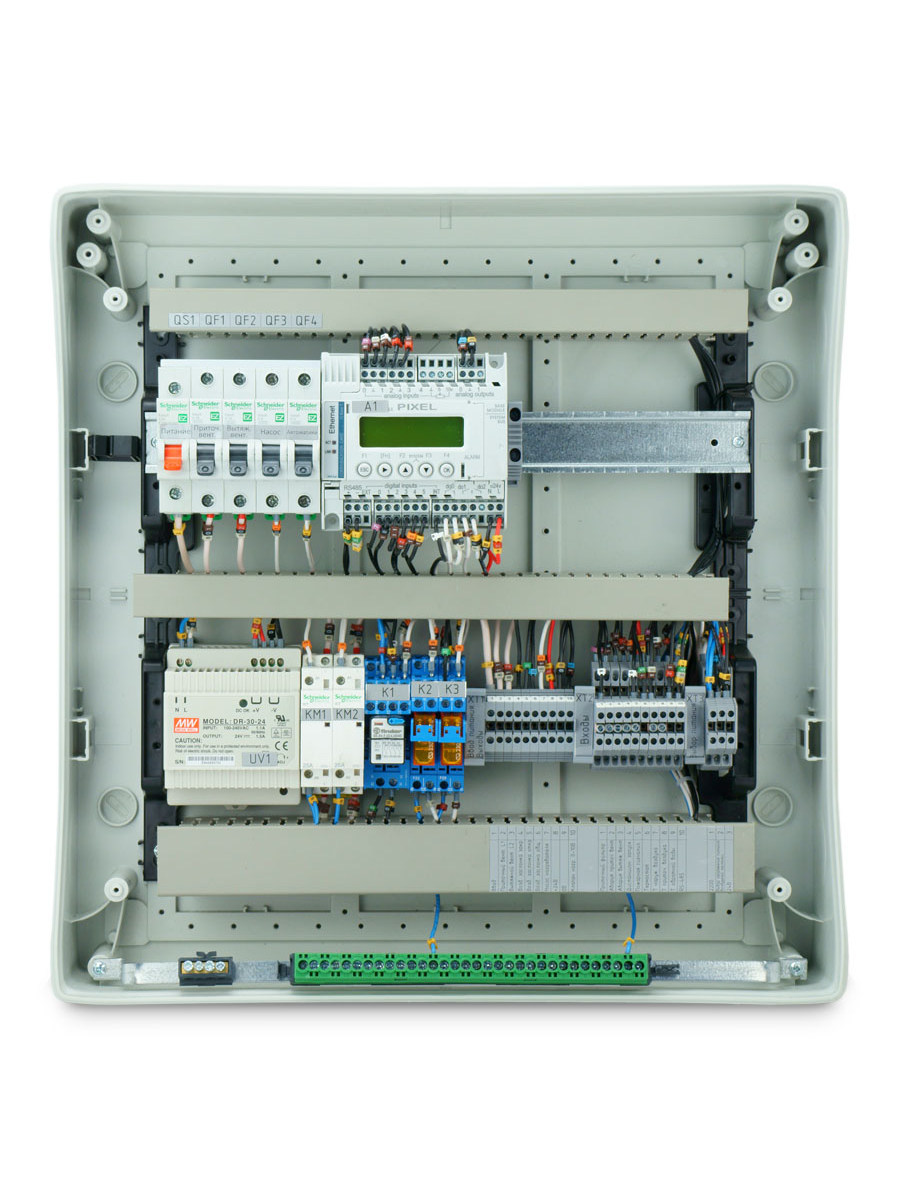 Please contact our professional team for an answer to any of your questions regarding organization of the correct supply and exhaust system. Many years of profile experience of our company, Climat PROF Kazakhstan LLC allows us to calculate, supply and install ventilation of any complexity, including such systems for a large public and industrial facilities. We are eagerly waiting for your inquiries!