History
We work at the market of deliveries ventilating, climatic and the equipment of airdistribution since 2010. The office is in Almaty, in 2015 the office in Astana is also opened. Experience of employees in the sphere of international trade of 15 years; Experience in the sphere of ventilation and the climatic equipment of 10 years; 10 people, ITR, Service engineers, commercial experts are On the staff of the company. The company is the direct representative in Kazakhstan of such plants as TROX-TLT (Germany), MTA (Italy), KLIMOR (Poland), TecnoMec (Italy), Friax (France) and other producers.
Climatic equipment:
– MTA (Italy) – chillers, fan coils, thermal pumps – GREE (China) – chillers, conditioners – TecnoMec (Italy) – of the system of water fogging and cooling of production cars and open rooms – SABIANA (Italy) – fan coil, hit equipment, thermal veils, the central conditioners
Ventilation equipment
– TROX-TLT GmbH (Germany) – diffusers, nozzles, lattices, the ejector cooling beams, valves, regulators of a channel of air, shiber, the systems of smoke removal, filters, the systems of laboratory control of air, fans all-exchange and smoke removals, the systems of parking smoke removal, Jet-fans, etc. – KLIMOR (Poland) – the central conditioners (incoming installations), the equipment for pools, sea application and health care facilities). – SovPlim (Russia) is the equipment of local smoke removal filtering the equipment, purification of air of productions, aspiration.
Air heating equipment
– Teplomash (Russia) – thermal veils, convectors, heat guns – ARBONIA (Germany) – the radiating water panels, fan heaters, water convectors
Our service
High-quality equipment service is the basis for long-term, reliable operation for the benefit of the consumer, which gives pleasure, happiness and confidence in the future. A professional team of service specialists of Climate PROF Kazakhstan LLP is ready to provide a full range of services for design, installation, repair, diagnostics and maintenance of any equipment, ventilation, air conditioning and maintaining a comfortable climate.
SPECIAL VENTILATION & HVAC
In the work of each company, as well as in the requests of each client who wants to arrange professional ventilation at their facility, they need a non-standard solution.
Such as:
Analysis of gas contamination in the room;
Optimal ventilation in an enclosed space;
Storage of products at low temperatures (different from standard household conditions);
Special solutions for industrial premises where the level of gas pollution and the amount of harmful emissions exceeds civil standards;
Therefore, the company "Climat PROF Kazakhstan" LLP, relying on its experience, has allocated for itself a separate direction in the field of special solutions for ventilation and air conditioning. What kind of solutions can we offer you?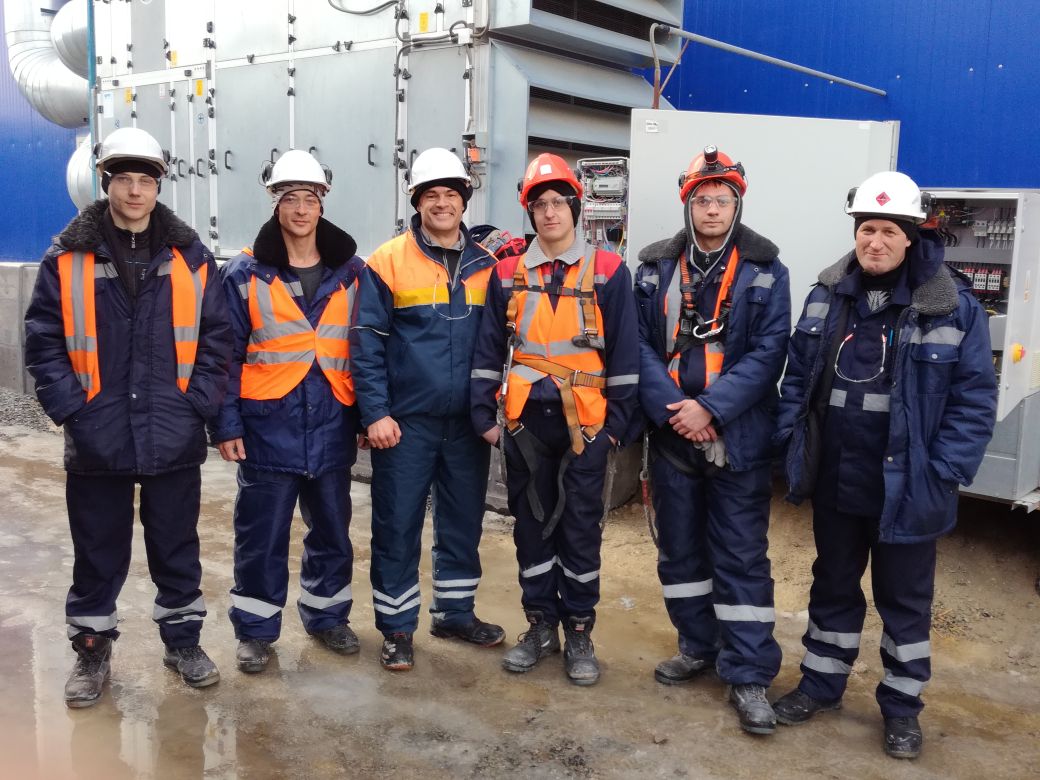 Service team of Klimat PROF Kazakhstan LLP on service of ventilation and air conditioning systems
of JSC KAZ Minerals Aktogay LLC, VKO, 2018.