Jet-ventilation underground parkings
The number of the implemented projects
The modern concept of the cities in which inhabitants have many cars, and the areas are limited, forces construction companies to take away parkings under the earth. In these conditions especially sharply there is a question of smoke removal and also removal of harmful gases, products of combustion of DVS of cars and their emission from parkings.
The Climate PROF Kazakhstan company proposes a complete solution for such tasks which instead of the traditional channel ventilation system and smoke removal of parkings offers the system of jet ventilation, so-called JET ventilation. The system consists of fans of smoke removal, fans of removal of carbon monoxide and also the systems of the analysis and control of concentration of harmful gases in rooms of an underground parking and the operating case.

We propose the solution on the basis of the equipment of the TROX company – TLT, Germany as one of the leading producers in the world of similar systems.
Our company has experience in realization of such systems, beginning from work with designers including supply of equipment, installation and debugging of all systems under requirements of the specific customer and also carrying out special smoke tests and commissioning.
Also the "Climat PROF Kazakhstan" company is ready to provide service after-sales service. Realized the objects executed on the systems of JET ventilation our company in Astana and in Almaty.
Advantages of this system of JET ventilation become especially significant at the number of parko-places from 120 and above as the decision on the basis of the system of Jet-ventilation allows in the conditions of more difficult configuration of parkings to avoid big and bulky vozdukhovodny channels with which do not interfere crossbars, engineering networks, pipes of sewerages and difficult configurations of parkings.
Besides clear advantage in terms of design of a parking, existence of bigger space and the best visibility, the solution of Jet-ventilation allows construction companies to save sufficient means and also to execute parkings of sufficient height for journey of minibuses and SUVs.
For this reason this system is more often applied both in Europe, and in the Republic of Kazakhstan.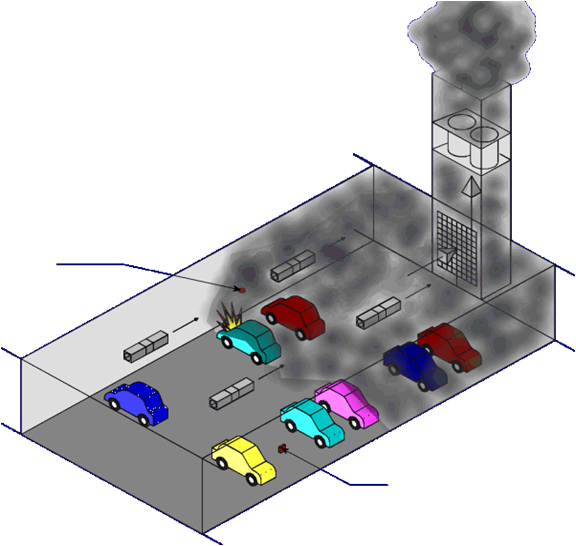 At emergency situations, advantage of Jet-of ventilation systems is the high level of safety reached due to increase in system effectiveness of the antismoke ventilation allowing to protect reliably a part of the premises of parking from distribution of smoke at the fire. Protection of escape routes of people and visibility of the center of burning improves that allows to organize fire extinguishing more effectively. The last circumstance was the main reason for development of Jet-of ventilation systems and smoke removals as at decrease in height of ceiling overlappings to 3.0-2.5 m characteristic of many-tier parkings, there were serious problems with reliability of traditional cross systems of smoke removal.
Photo for comparison:
Usual ventilation undergound parkings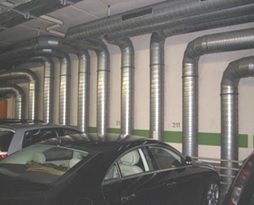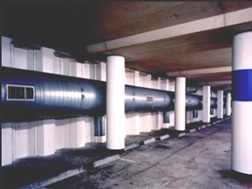 Jet-ventilation underground parkings